"Adventurous new album from critically acclaimed Yukon songstress is her best yet"
"'Genre Bender' is a deeply moving and personal album that shines with beauty and conviction. It features a bold selection of songs that celebrates and explores the wide range of music available to us today. Recorded over a period of three years with a variety of musicians, Nicole Edwards never rushes her muse; she remains an indie musician in the truest sense of the word who always creates on her own terms.
Nicole Edwards is a unique artist with a deeply personal vision that she pulls off beautifully to share with us on this, her fifth and finest album.
Ambitious, thrilling, at turns funny and heart-breaking, 'Genre Blender' is an indispensible new record." Doug Heselgrave, music writer, Vancouver BC
A giant THANK YOU to those of you who pre-ordered and bought my CD, attended my concert, who share my videos and support me and my music in a variety of ways.
I couldn't do this without you!
I'm excited & proud to finally be sharing my art. It has been so rewarding & FUN!
HOW TO GET YOUR COPY
Available for streaming or purchasing on Bandcamp. Or it can be purchased on iTunes or other sites. I earn more if you buy the CD directly from me…. so if you like this option, you may pay with on-line banking e-transfer to: info@nicoleedwardsmusic.com
Be sure to email me with your mailing address so I can mail you your CD.
OR
by cheque mailed to:
Nicole Edwards
Box 10439
Whitehorse Yukon Y1A 7A1
$20 per CD plus $3 shipping within Canada or $5 shipping to US or Internationally.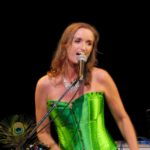 Photo by Grace Snider
My CD concert at the Yukon Arts Centre was truly a night to remember! Such a warm generous audience and ten outstanding collaborators on stage with me! A dream come true! I'm still buzzing.
Thought I'd share some kind words from some of the people who attended:
"The CD release party was the most uplifting and fun concert I have ever experienced! I say "experienced" because it was engaging, natural, thought provoking, and so much fun! Just a fantastic musical delight appealing to the senses…all of the senses!" Sylvia
"I wanted you know that I am spending time with your new cd. I think it's really wonderful. You are one of the gems of the Yukon. Gifted songwriter. Gifted singer. Gifted performer with drive and generosity. You have something magical that not many performers have. The whole package. Truly." Kim Beggs, musician
"I so enjoyed last night's concert. It was an amazing night of music and community. Kudos to all the musicians, performers and crew. Nicole Edwards, you are a force of nature!" Elaine
"Your show at the Arts Centre last night was fantastic!! What energy and what a band!! Thank you for your continued inspiration and for uplifting our community (and me) with your infectious music. "Brenda
"Congratulations on an outstanding performance!!!!!!!! We also loved your outfit, just stunning. We were so much enjoying the concert-each and every song you performed captured the audience. It was so emotional and we were all so happy on the drive home, playing your cd in the car. You have put together and performed a wonderful night!!!!!!! You are amazing!" Bianka
"What a fantastic concert!!!! I really enjoyed it. Great songs, great musicians….you were absolutely awesome! Your songs and songwriting are so entertaining, thoughtful, some of them really hit home. Thank you for the evening." Sharon
WOW! bravo! Très beau spectacle, belle soirée, belles chansons, marionnettes très amusantes, très bon martini à l'entracte, des musiciens fantastiques et une chanteuse resplendissante, professionnelle qui nous a donné une performance incroyable. Toutes mes félicitations Nicole. Les chansons nous restent dans la tête! Merci Nicole, à toi et ton équipe! Dan